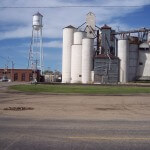 Firmly planted in the heartland is a small town that is steeped in traditions of hard work and family values.
Wide paved streets, vintage buildings and well kept lawns show a town with both personal and civic pride.
Housing varies from a few historic limestone homes to senior housing built from hay bales and plaster to a Monkey Ward kit home. There is an array of single family homes from bungalow to c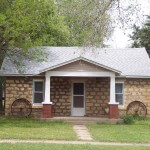 raftsman to ranch housing for the population of 781.
Windmill construction and maintenance is the newest source of employment. A large prison and several farm implement manufacturers and welding companies provide many area residents with jobs.
Services include a post office, nursing home and a medical clinic staffed part time. There is a grocery/hardware store, diner, liquor store and a gas station/diner.
Wilson has K-12 schools and a playground. A park in the downtown is the center of the yearly Czech festival held each year on the last weekend of July.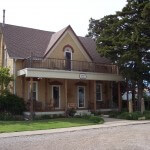 The impressive Midland Railroad Hotel is on the National Historic Register. A more intimate B&B with lovely gardens is the Simple Haven (pictured right).
Wilson is enjoying a resurgence of families moving to the area and a town that once was graying, has a new generation calling it home.
Train whistles can be heard several times a day as they glide past the largely abandoned sidings with grain silos that are remnants of another era.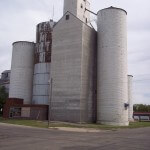 Tree Tables are an example of a local small artistic business. Several small businesses can be seen scattered over town.
Wilson Lake is minutes away and boasts being "The Clearest Lake in Kansas." This area is in the rolling Smoky Hills. Also of interest are the rock posts for fences seen widely and still in use.
(Based on a visit in April 2012) Click here for more information on Wilson Kansas