Virtuoso ® is a network of the world's finest travel agencies with knowledgeable advisors who draw upon first-hand experience to craft the perfect vacation for you.  Virtuoso affiliated travel advisors have global connections with the best hotels, cruise lines, airlines and tour companies.
Virtuoso has a week in August when advisors gather for training, one on one appointments and camaraderie.  For the last several years, it has been held at the Bellagio in Las Vegas.
This year I attended seminars and training on technology, travel insurance, tours and sales.  As a member of the Virtuoso Cruise Committee, I participated in our monthly meeting while at Virtuoso Travel Week.   Additionally, I also had several informal meetings with others from Brownell.
One of the most productive and interesting events took place in the Cruise Cafe where I was able to meet one on one with executives from the cruise lines.  I was able to share successes and challenges from our team and glean valuable insider information about the cruise industry.
Holland America is introducing a new promotion, Explore 4.  For selected sailings there are beverage and specialty restaurant offerings.
Silversea is introducing new expedition voyages to both Galapagos and Antarctica.
Norwegian will introduce the new Getaway in February 2014, sailing year round from Miami to the Eastern Caribbean.
Seabourn Quest is ice strengthened to sail in Antarctica  and boasts new Spa Suites.
Regent is sailing in Tahiti again and when I asked about air space, I was assured that they have a block of air in place.
Oceania's three smaller ships will undergo extensive refurbishments in 2014; influenced by the Rivera style, the ships will have a more contemporary feel.
Tauck will have a new open bar policy in 2014 and a new class of vessels, the Inspire class which are 30% bigger, but with only 8 more cabins with 22 suites.  Finally, Tauck is introducing a water level cabin that is very desirable, see below.
Royal Caribbean's Quantum of the Seas will sail from Cape Liberty New Jersey beginning in November 2014.
Windstar is launching its new power yachts as a small ship alternative to their sailing yachts allowing for worldwide destinations in the casual Windstar style.
AMA Waterways new ships will have larger cabins with most cabins over 210 square feet.
Viking Cruises has a new itinerary to Burma.  They will be launching 28 new ships in the next 3 years including the innovative Long Ships.
Crystal will be sailing to the White Sea in 2015 with 4 maiden ports of call.  They also have a new room category, Pure, which is a hypoallergenic stateroom.
Princess will have shorter cruises 3-5 nights to Bahamas, Caribbean and Mexico.
Paul Gauguin has two small ships both of which are casual.  The Tere Moana wanders the globe while the Paul Gauguin stays close to Tahiti.
Compagnie Du Ponant  has a fleet of small luxury ships, but a good thing to know about them is that they have many sailings with great Solo rates of just 10-50%.
Sea Dream has 2 intimate yachts and they are known for their spa.  The Costa Rica sailings this year have a special spa packages available.
Next year will find me back in Vegas, so if through the year you have comments, questions or suggestions, send them to us and we will put them in the notebook that I take with me to these meetings.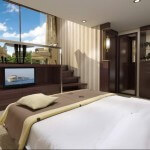 Pictures from the Cruise Café: