Viking Seine, October 2005  (updated April 2012)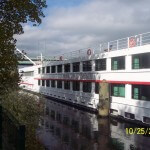 This may have been my first river cruise, but I am confident that it will not be my last!
Of all of my vacations this was certainly the most enjoyable.  The photos that I have are some that I will cherish always.
Here are some of the details that I think are helpful for a first time river cruiser.
Be very, very careful about booking the cabins on the lower decks.  Although not always apparent in the photos or in the brochures, they are often obstructed views.  It is very important to inquire about the exact size of the cabin and the configuration of the bath.  Although all of the cabins have private baths, on some ships they are more like the old style RV baths with the shower pulling from the sink in a very cozy area.  Some cabins are as small as 80 square feet.  It is best to go into this type of accommodation with a "camping" mentality rather than viewing it as a standard cruise or hotel room.
This is a cruise with very little storage and certainly a good idea to bring duffels that are very compact rather than large suitcases.  Although suitcases will be stored for you on the ship it is more convenient to have collapsible bags that take up little space.  The good news for the limited storage available in the cabin is that the attire is more casual at night so that dressing up is not required.
Be sure to inquire if beds are convertible.  Some are either fixed twin or sofa beds.
Arriving at least a day early is an excellent idea.  Cabins are generally not available until 3 p.m.  After a red eye flight, it can be quite tiring to not have a place to rest or nap upon arrival to the ship.
Room service is not available and snacks are not always easy to obtain.  It is a good idea to bring a small supply of your favorite snacks with you.
Meals are served promptly and the service was excellent.  It is a good idea to buddy up early in the cruise with people that you hit it off with as it can be tedious to keep introducing yourself and making small talk with different people at each meal.  All meals are open seating, but there are no tables for two, so you dine with others, like it or not.  Since most passengers were very compatible, this is not a big problem unless you are just tired and wanting a nice quite meal.
Update:  In the several years since this cruise, the industry has been evolving and the newer ships oriented to the North American market have become more "ship like" with bigger cabins and more amenities.
One of the strong points of a river cruise remains the excellent included tours with optional tours and time to just enjoy being in unique destinations.