Location, Location, Location!
This hotel, The Crown Plaza, is within walking distance to much of Amsterdam.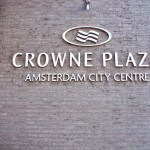 It is just a block from Central Station, two blocks from Dam Square and a short distance from multiple shops and restaurants.  From the Central Station area, you can get all forms of transportation for traveling around the city.
The hotel is an older building with a newer building attached.  The rooms and bathroom are really good sized and fully equipped.  They are modern and very well maintained.  One thing I will say is that the shower is in the very high sided tub, so if you have any mobility issues you might need some kind of step over appliance or an accessible room.  You might want to ask the bellman to show you how to work the shower.
There is a lovely area off the lobby for conversation and the restaurant and Club Lounge are just off of this area.  The restaurant has a varied menu and is in the mid to higher price range.  The Club Lounge is well stocked and has different offerings throughout the day with beer and wine available from lunch time on.
In the Club Lounge are complimentary computers with internet access as well as an assortment of newspapers and a comfortable sitting area.  Club Level rooms are a good investment if you want to enjoy a higher end dinner and save some money on other meals.
The hotel staff is friendly and very helpful.  They offered suggestions for shopping and restaurants.   The Concierge had discounted "Hop On Hop Off" tickets and suggested various things in the area to do.
This hotel is an excellent choice as a place to stay prior to a cruise.  Plan on 2 or 3 nights since you need to recover from your flight first and then spend some time enjoying and exploring the very vibrant city.
Written by Toby Snyder, Assistant to Linda Allen