The oldest city in the United States is charming and an architectural delight.  The history is fascinating.  One of the best ways to get a feel for this city is on one of the many trolley tours.  If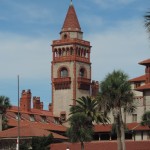 you don't get off, the full loop is about two hours. This will give you a good idea of what is of interest for further exploration.
Lodging comes in all price points.  I saw signs for $35 on "the other side of the bridge" but to park in the parking garage it is $10. There is a Four Star revitalized historic hotel the Casa Monica, which is elegant and centrally located.  It is next door to the small, quaint B&B we stayed in called The Old City House Inn, which was a perfect choice for us.  Quirky, clean and historic, this place excelled in customer service and friendliness.  I chose the Lightner room due to its small private balcony.  We sat out on it each night in the wicker chairs.  Breakfast was delicious and ample and served between 9-10.  A fruit and cheese plate is included in the evening.  The courtyard is delightful.  There are two bikes available to guests and St Augustine is a bike friendly town.  The restaurant at the Inn serves lunch and dinner and has a diverse menu.  We also ate at O'Steen's, which is a good choice for seafood.
Families will enjoy various activities from the original Ripley's, a fort, beaches and a lovely carousel.  There was a ghost tour, which looked like it might be fun.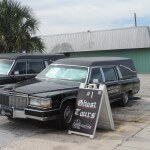 Mature adults will enjoy the arts, dining options, numerous museums and world class architecture.  Art/collectible/antique shopping opportunities abound with many unique pieces being offered.  By all means, do stroll after dark. This is a beautiful city during the day, but dramatic at night.
Season for this town is considered Jan-March, however we found it cooler than expected at 65 degrees so plan to dress in layers.
(This report written during a 2-night stay in late October, 2013)