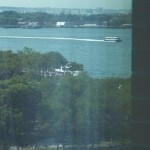 Ritz has a way of making you feel like a pampered guest and perfectly at home at the same time.  My room at the Ritz Carlton Battery Park was not ready when I arrived early in the morning.  The staff offered several options and I chose to take the Statue of Liberty/Ellis Island Ferry, which is located right across the street from the hotel.  Pre-purchasing tickets and going earlier in the day in July would have been better, but since it was spur of the moment, I spent an enjoyable 3 ½ hours touring.
They also offered assistance with an onsite spa appointment.  The spa and gym are compact, but tasteful and serene.  The massage was divine and a very nice touch was the wonderfully heated table.  The treatment was a brief back massage followed by the application of a large rice bag to the back to encourage the back to relax. After the lower body work, the back was so warm and happy that the follow up back work was just as wonderful. A nice touch at the spa is that if you are arriving at the hotel early, they will store your luggage and you can use the gym or just have a relaxing shower in a multi-spray spa shower before your massage.  They provide a comfy robe and all shower amenities.
Upgrading to Club Level is a world apart.  Lovely, quiet enclave with light breakfast, lunch, two hours of cocktails with heavy hors d'oeuvres in the evening and late night dessert are offered.  Comfortable elegant furniture invites conversation, reading or table games.  A laptop with printer is available to print boarding passes.  Sadly, there are not separate areas for adults only and families traveling with children.
The bedroom is nice sized and has ample storage.  The large bath has a soaking tub and a large marble shower.  The extra comfy bed has lots of soft pillows and luxurious linens.  The TV is a large flat screen with many available channels.  There is a Bose Radio and CD player plus an Internet connection and lots of outlets.
My meeting ended late, but I managed to get back to the hotel in time for dinner.  I was pleasantly surprised to find a Prix Fixe 3-course menu with interesting options for only $35.  I had just completed a cruise, but this meal was equal to or superior to the one that had the same surcharge at the ship's specialty restaurant.  Quality for the price paid —- exceptional.
Ritz, sophisticated, elegant and comfortable; attentive without being obtrusive.  If I could live there, I would.  As it is, I loved my brief visit to the Ritz Carlton Battery Park.