The S7 (window suite) class of cabins is not for everyone.  They are for the cruisers who would rather have more space in their cabin than a balcony.  These cabins range in size from 319 sq ft to 341 sq ft.  A good time to consider this category is shoulder season sailings or cooler climates when a balcony might not be as desirable.  This category enjoys full suite amenities.  You will find it only on the Caribbean, Enchanted, Grand,  Golden and Sky Princess.
Suites – Services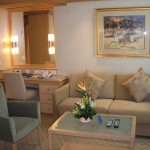 Expedited embarkation process
Preferred Anytime Dining reservations
Personal Shore Excursion reservations (Service provided onboard. Passengers will receive a letter in their stateroom)
Complimentary laundry and professional cleaning service
Complimentary shoe polishing service
Enhanced turndown service on formal evenings
6 dipped fruits or 3 dark and 3 light chocolates on a doily presented on a silver tray
Exclusive Elite Lounge (a reserved lounge area on disembarkation day for passengers to relax comfortably with complimentary coffee or juice, pastries and a local news paper-if available)
Dedicated priority line (actual queue, not telephone extension) at the Passenger Services Desk (Suite and Elite Captain's Circle passengers)
Suites – Amenities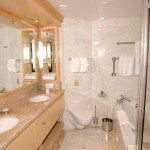 Complimentary glass of champagne at embarkation
Top of the range luxury mattresses
Luxury 100% Egyptian cotton, high thread count ivory satin striped bed linens
Fluffy European Duvets
Pillow menu
Massage shower heads
Luxury bathrobes
Luxury towels
Combined DVD and CD player
Complimentary DVD library
Enhanced bathroom amenities: Shower cap, Emery board, Cotton balls and Q tips, Bath Salts, Eye gel mask, Sisal Loofah Mitt, Shower/Bath gel., Lip Balm
Halo illuminated magnifying vanity mirror
Princess Cruises tote bag
Complimentary use of the Lotus Spa Thermal Suite (available on the following ships: Caribbean, Coral, Crown, Diamond, Emerald,Island, Ruby, Sapphire and Star Princess).
Complimentary slippers
Fresh flower arrangement
Complimentary corsage and boutonniere on first formal night
Complimentary mini-bar – A one-time only mini-bar will be placed into each suite prior to embarkation. However, should the passenger require any additional supplies this will be at the discretion of the Passenger Services Director. The mini-bar set-up consists of the following items (subject to change and availability):
Two (2) 50ml bottlesCognac- Courvoisier V.S.O.P.
Two (2) 50ml bottles Gin – Beefeater
Two (2) 50ml bottles Vodka – Skyy
Two (2) 50ml bottles Whiskey – Canadian Club
Two (2) Cans Beer – Dos Equis XX (Toohey's New will replace Dos Equis XX on DP/SP)
Two (2) Cans Tonic Water
Two (2) Cans Coke
Two (2) Cans Sprite
2 Small Waters
2 Perriers
Suites – Dining Services
Welcome glass of champagne
Extended room service menu (full breakfast, lunch, dinner offering) – Suite passengers only
In-suite afternoon tea service – Suite passengers only
Passenger's choice of deluxe canapes, delivered daily
Breakfast in Sabatini's w/complimentary "Good Morning Mimosa" each morning – All ships except SP, DP, CP (offered in-suite)
Suites – Onboard Activities
Complimentary Internet access* (includes Internet Cafe and WiFi Access) (Note that the Grand Suites have a computer in the stateroom)
Private portrait sitting
* Note there is no activation fee for the suite guests to use the WiFi onboard.
Auto Confirm Meal Seating
Passengers booked in Suites will be automatically confirmed on their preferred dining seating.
Lotus Spa Thermal Suite – Suite Passengers Only
Ship Notice


We are delighted to extend the complimentary use of the Thermal Suite onboard to our suite passengers.  The Thermal Suite is a communal relaxation center.  Different grottos and chambers release a variety of dry heat, steam and mists into the air with aromatherapy filled vapors.  Relax on a warm stone bed and allow the pressures of life to melt away.Please present your cruise card to the reception desk in the Lotus Spa for your entrance to the Thermal Suite.  We also invite you to make an appointment at our Lotus Spa and choose from an endless array of exquisite treatments to promote pampering and rejuvenation.
All Lotus Spa treatments will be charged to your stateroom account.
Suites – Princess Captain's Circle Credits
Passengers who pay for and occupy a full suite (excludes mini-suites) will receive two cruise credits upon completion of that cruise.
Passengers who pay for and occupy a full suite (excludes mini-suites) and pay the single/exclusive occupancy fare and travel alone in their cabin will receive three cruise credits upon completion of that cruise.
Ships & Categories which are Suite Amenity Eligible
Ship
Category
Caribbean Princess
S1, S2, S3, S4, S5, S6,

S7

, S8
Coral Princess
S5, S6
Crown Princess
S2, S3, S4, S5, S5, S8
Diamond Princess
S1, S2, S3, S4, S5, S6, S8
Emerald Princess
S2, S3, S4, S5, S6
Enchanted Princess
S0, S2, S3, S4, S5,

S7

Golden Princess
S1, S2, S3, S4, S5, S6,

S7

, S8
Grand Princess
S1, S2, S3, S4, S6,

S7

, S8
Island Princess
S4, S5, S6
Majestic Princess
S2, S3, S4, S5
Pacific Princess
S2, S3
Regal Princess
S3, S4, S5
Royal Princess
S3, S4, S5
Ruby Princess
S2, S3, S4, S5, S6, S8
Sapphire Princess
S1, S2, S3, S4, S5, S6, S8
Sea Princess
S2, S3, S4
Sky Princess
S0, S2, S3, S4, S5,

S7

Star Princess
S1, S2, S3, S4, S6, S8
Sun Princess
S2, S3, S4