Port Canaveral is 46 miles from the Orlando airport.  With toll stops, allow at least 60 minutes from the airport to the pier.  Alternatively you may want to consider Melbourne (25 miles)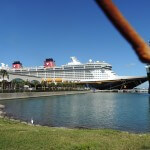 or Sanford (62 miles) airports.
Most passengers opt to fly in at least one day early before a cruise, but if time allows families may want to spend more time in the area with the beautiful beaches and The Kennedy Space Center.  Mature adults will probably find the City of Cocoa a more attractive alternative than Port Canaveral with its charming ambiance.  We usually recommend that passengers rent a car at the Orlando Airport and drive themselves to Port Canaveral.  By doing that  they can get to restaurants or see the area and turn the car in at the rental agency just off the Port. The agency will shuttle them to their ship.
We stayed at the Radisson Resort at the Port.  When checking in ask for a newly renovated room and on the first floor. If that is not possible, ask for a renovated room near the elevator.  We have used this hotel frequently in the past, but after my visit we will be looking for other choices.
The port is very easy to find, in fact, we could see a Carnival funnel from the Radisson parking lot.  Radisson provides parking packages with a shuttle to the pier.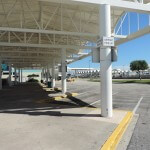 The piers appear modern and efficient.  I was there about 2 p.m. and it appeared that most passengers on all ships were already boarded.
The signage to the piers was easy to follow although there was quite a bit of traffic.  The areas around the piers are dependent on the cruise ships, so when the ships are going out this area is very busy.
Consider Izzy's Bistro especially if you like German food.
(This overview was written during a 2-night stay in late October 2013)