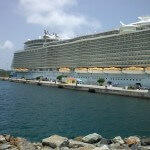 The world's largest cruise ship makes an instant impression.  Everything is done in a big way.
The first thing I noticed was the efficient and smooth boarding process.  This is a ship that you can walk right on board and go to your cabin. Do not think that getting there early will give you an edge.  We arrived at 1:00 PM and there was no line and the cabins were ready.
Royal Caribbean wanted things to be special.  They took things from the Freedom and Voyager Class ships and incorporated them into this magnificent floating resort. One example is the ice rink plus there are 2 zip lines, 2 40' rock climbing walls, 2 flow riders, a miniature golf course and a merry go round.  There is a pool on deck 6 aft at the AquaTheatre which hosts an acrobatic and diving show. These are just a few of the special things you can find on Oasis of the Seas.   Oasis has a large and well equipped fitness center.  It also has a special walking and jogging track area around deck 5.  This is a separate space for those that want to get their exercise without having to dodge other passengers.
The ship has a maximum capacity of 6296 passengers.  This could mean lines and crowds, but it is very rare that you have to deal with either.  I also noticed that there were passengers of all ages.   Many were multi generational families celebrating special occasions.  The ship does provide a large pool, whirlpool and relaxation area for passengers over 16 years of age.
The cabins are comfortable.  There is adequate storage with ample closet space.
Bedding is very comfortable.  The bathroom is just that—a medium sized ship's bathroom.
My cabin was a Central Park Balcony.  It did seem strange to be sitting on a balcony on a ship and not see the water. Central Park is beautifully landscaped and a pleasure to look at.  The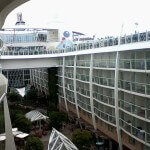 only drawback to Central Park is the music from the pool area during the day.
The other area with balconies that do not face the sea is Boardwalk.  Boardwalk is in the aft and has a very beachside atmosphere.  Boardwalk is more open to the air.
The entertainment is diverse and the venues are well laid out and comfortable.  The Specialty dining restaurants offer diverse menus and excellent service.  You can book entertainment and specialty dining prior to boarding.  Please show up for your shows or dining if you have made reservations.  If you decide not to go please cancel your reservations.  We saw empty seats in the theatres and empty tables in the specialty restaurants because of no shows.
The piers for ships this size had to be custom built or can only accommodate one or two ships.  The pier in Nassau was not a different one, but the ones in St. Thomas and St Martin were ones I had never been docked at.
Oasis has excellent children's programs which are well staffed.  They start with a nursery and then have two other age levels which are housed in a beautifully equipped area.  The teenagers have their own special places.
The menu is very ambitious and the food is good.  I have to remind myself  not to be judgmental since the galleys prepare 34,000 meals daily.  This means that the food will be good, but not exceptional.
The crew is attentive and the service is very good.  My cabin steward made sure to introduce himself and learn my name.  Our waiter and assistant worked hard to make the meals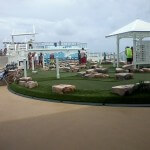 enjoyable.  All crew members that I interacted with were pleasant and focused on customer service.
This itinerary has 3 sea days, but there is so much to do on the ship that you do not have time to get bored.  I was very pleased by the lack of motion considering the size of this ship.
The choices of dining options and bars and lounges make this ship as attractive as many all inclusive resorts.
I will have no problem recommending Oasis of the Seas and her sister ship Allure of the Seas to our clients. By the way they are building 2 more Oasis Class Ships.  Royal is also introducing the Quantum Class with two ships; the Quantum of the Seas and the Anthem of the Seas.  These are smaller than the Oasis Class and hold approximately 4000 passengers.
Written by and based on a June 2014 cruise taken by Toby