This Is Not Your Grandmother's Cruise Ship
For many years, my opinion of NCL and its struggles was that it was a top down issue. "Was" is the operative word here now that Kevin Sheehan is at the helm.  The problems that plagued this cruise line are disappearing.  It will take time for them to refurbish existing tonnage to fit the new Norwegian Cruise Line image, but I personally feel they have the dedication and
infrastructure in place to do so.  I can personally see them growing their business from first time cruisers with families, tapping into traditional family vacation markets as diverse as Branson to Vegas. Families are where this ship took center stage with excellent and spacious kids and teens programs and a amazing variety of diversions. The sheer volume of space dedicated to the children/teen programs is impressive; coupled with the massive open deck area dedicated to fun activities. This ship can easily captivate a family for a week.
One of the reasons that I think that the Breakaway will appeal to families who vacation in Vegas is that it has all of the "Vegas Gee Whiz" but at a lower cost of what a family would pay to go to Vegas.  The Casino is massive, taking up much of Deck 7.  There is even in-room gambling, but I did not personally try my hand at ga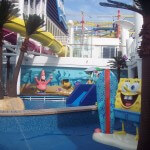 mbling.  The casinos were lively and not too loud.  It is necessary to go through the Casino to traverse Deck 7, which may take some planning for those that are smoke sensitive.
The Breakaway is not just another Epic…..
Outside, she is boxy and brightly painted, inside she is more refined and attractive.  She is easy to navigate with the help of touch screens located throughout the ship.
Public areas dominate 3 decks inside and 2+ decks outside.   678 Ocean Place, is both pretty and vibrant and anchors indoor activities and shows.  The stunning glass chandelier and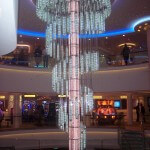 glass steps are tasteful and elegant and hark of days gone by with an updated flair.  I was personally disappointed in the Waterfront.  I had admired it in the brochure and at the web site; but when I saw  it, it was not at all as pictured.  Instead it had obstructed views from the lifeboats.
Much is made of the specialty dining, and rightfully so; however the complimentary dining certainly meets expectations.  I was pleasantly surprised with the numerous included restaurants, both in selection and quality.   The extra charge dining options are excellent values when compared to big city prices if you take into account the quality of the experience.  I would anticipate them being so popular that they should be reserved ASAP in particular, Ocean Blue.
This ship was built for the young and young at heart.  Entertainment is varied and high energy. The main show lounge has comfortable seats with unobstructed sight lines, an interesting modern design and an excellent sound system.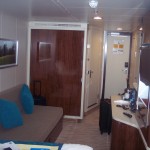 Unlike the Epic, the Breakaway has a bathroom with all fixtures behind one door.  Cabins are well-designed with practical durable decorating and lots of sandy and turquoise tones.  The cabin became more comfortable as I stayed in it.  However, if I were booking myself, I would opt for the lighter tones of the Spa categories.  Storage should be adequate for two for a week.
The Haven is built for passengers who would enjoy a mixture of vibrant excitement when outside of the cocoon on the exclusive Haven retreat.  Various accommodations are designed for many family needs; however, all members of the family need to be booked into the Haven to enjoy its key card access privacy.
The crew was friendly and engaged.  When I commented on the fireworks, Dinesh from India told be about the Diwali Fire works, something I had not heard about before.
So, which cruise do I have my eye on for myself?  The 12-night Southern Caribbean on January 5, 2014 with the Rockettes and 6 ports of call in the Caribbean.
Tips
Sailing from downtown NYC year round the Breakaway will be in open seas so cabins should be selected accordingly.
Expect cool weather the first and last days during winter in the Caribbean.
The bath amenities in the standard cabin are limited to wall mounted dispensers for hand soap, bath gel and shampoo.
Connecting cabins connect by a standard door rather than a vestibule.  Yes you can hear the TV through the connecting door.
Being close to elevator is a great idea, this is a BIG ship.
There are only 2 elevator banks, but they are situated so that noise should not be an issue for nearby cabins.
Your key has to be inserted by the door to have cabin lights.
The balcony door has to be shut for the AC to work.
Check in….go early or later to avoid long lines or book the Haven.
A lovely unexpected touch is a coffee maker in the cabin.  In room coffee with a small coffee pot is provided, but no tea.
Do keep in mind that the Broadway Musical, Rock of Ages, is very much adult oriented.
The Breakaway's twin sister "The Norwegian Getaway" will debut in February 2014 sailing round trip Eastern Caribbean from Miami.
(Based on a 2 night, pre-inaugural, May 2013, standard connecting balcony)
Update:  Kevin Sheehan is no longer with Norwegian Cruise Lines.
http://www.cruisecritic.com/news/news.cfm?ID=6134