There are many cruises that leave from NYC and Bayonne/Newark.  This is a great time to add a trip to Niagara Falls.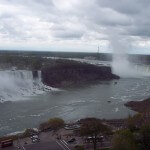 If you did not drive there are ,various options including bus tours that depart NYC and return there.  If you are flying, Buffalo is the closest major airport and is generally much less expensive than Toronto.
The train is a relaxing and scenic way to see the countryside.  The train leaves from Penn station.  Seats are comfortable; there are power ports and Wi-Fi.  Route starts along the Hudson River (sit on the left side for best views).
There are restrooms and a Cafe Car with limited food service. Storage is ample, however smaller luggage is much easier stowed.  Boarding starts approximately 20 minutes before departure.  My train was pulling away two minutes past posted departure, so getting there early is a good idea.  If time allows, you may want to get off the train in Syracuse.  Prearrange a rental car with a drop off at the Buffalo airport and spend some time exploring the Finger Lakes and wine country.
I was able to do everything of interest in half a day on each side of the falls.  Views of the falls are best on the Canadian side.  Rainbow bridge is easiest.  Print out a map and be prepared for various tolls and move to the center to avoid the E-Z Pass only lanes.  You must have valid ID (passport) to enter Canada.  Lines at the border crossing can be long so make sure you have plenty of gas, water, etc.
Sheraton at the Falls offers magnificent views, ask for a high floor.  The Sheraton sits at the park and it is an easy stroll along the falls.  Self parking is $20 and valet $30 a night.  Property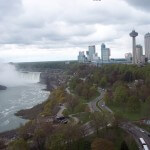 is attached to a casino, arcade, Hard Rock, etc.
Ask the Concierge to make reservations at the revolving restaurant, the Skylon Tower,  just before sunset by the window to have day and night views and hopefully a lovely sunset.  There is a per person minimum for complimentary tower access.  Entrees are large and if you split one between two along with a shared appetizer and either soup or salad for both, you will have a lovely dinner with a MUCH nicer experience than just paying to go to the observation tower.
The American side offers more of a see it, feel it, taste it experience.  You might be tempted to skip this, but it certainly warrants half a day.  The narrated trolley is a good way to get an overview and see what you want to go back to.  You will get wet on the Maid of the Mist, so best to do this last.
Just over the American side of the Rainbow Bridge is an authentic family run Indian restaurant.  It has parking and some of the best Moong Dal I have had, which is made by Mom in the kitchen.
Since flying from Buffalo is the best air choice, you may want to spend the night near the airport.  I stayed at a reasonably priced Quality Inn, family owned and friendly with airport shuttle, Wi-Fi and free parking during your stay.
(Based on a post-cruise trip May 2014)