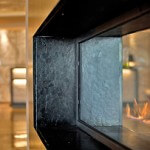 We chose the Renaissance Newark Airport Hotel as it is a property Celebrity uses as a pre-cruise option.
The airport shuttle was quick and efficient.  Finding the shuttle was a little harder, but the Newark Airport has people stationed at key points to steer you along to P4 where the hotel shuttles all pick up.
There is not a shuttle to the ship.
The hotel looks new and modern.  The front desk is efficient.  The property is clean, tidy and attractively landscaped. The hotel is all non-smoking.
There is a restaurant on site and takeout is available.  I opted for the skirt steak on site and it was quick and tasty, with tip, no drink it was $30.  If traveling with a family, take out pizza may be attractive.
There is a small gym and an indoor pool, which was being well utilized by families in the evening.
I stayed in room #900, a standard king facing a busy highway and directly at the elevator.  Both were noticeable noises and best avoided.  The back of the property faces a more residential area and would be a better choice.
The room was spacious and tasteful with complimentary coffee, tea and a safe.  There is an icemaker and vending machine on each floor.  The bathroom is on the small side with -0- counter space and a pedestal sink.  I had hoped for a bigger tub for a soak, but it was just a standard tub.  Toiletries are Aveda.
http://www.marriott.com/hotels/hotel-information/travel/ewrnr-renaissance-newark-airport-hotel/