Recently, my husband and I traveled to the Garden Isle of Hawaii, Kauai.  Mt Waialeale, the heart of the ancient volcano is located on Kauai.  This is the wettest spot on earth, with an average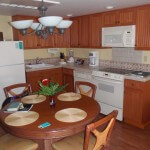 rainfall of 450-500 inches annually.  It is a beautiful island with gorgeous flowers and plants, waterfalls and beaches.
We stayed in a one-bedroom, full kitchen condo at the  Kauai Coast Resort at the Beach Boy.  It was a very nice resort with friendly employees and a good central location on the island.
While on the island we rented a four-wheel drive jeep which I recommend.  The roads can be rough in places and some of the side roads to the beaches are not paved.  While on the island we got to see a lot of great points of interest.  Below is a list of sights not to be missed:
Ke'e Beach located at the end of Hwy 56 north.  There is a 3-mile hike along the coast called the Hanakap'ai' trail to a nice beach, but do not go if it is raining because it can become very slick.
Dry Cave at Ha'ena Beach Park
Hanalei Bay were South Pacific was filmed; Donavan's Reef.
Kilauea Lighthouse
Kayak up Waialua River, along the creek to Secret Falls (you can take a tour at Smith's Kayak).
Waialua Falls on Hwy 583 and Opeka'a Falls on Hwy 580
Lydgate State Park a great protected area for snorkeling
Old Koloa Town
Spouting Horn
Waimea Canyon know as the Grand Canyon of the Pacific is located on Hwy 550 to 13 to end of road
Swinging Bridge in Hanapepe town over the Hanapepe River
Kauai Coffee Plantation
Another item not to be missed while on Kauai is the helicopter rides with Blue Hawaiian Helicopters.  Our pilots name was Nathan and the flight was amazing!!  The view of the island from this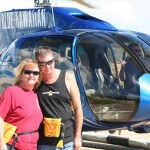 perspective was absolutely spectacular.
We ate at some very good restaurants while on the island.  In fact, I honestly cannot pick my favorite they were all so good.  Here are some of the places we ate:
Chicken in a Barrel which has wonderful smoked chicken, ribs and pulled pork, but I have to say the chicken was my favorite.  There are two locations, one is located in Kapaa which is a small outside roadside stand with outside seating and then a larger restaurant located in Hanalei.
Grinds Café located in the Ele'ee Shopping Center.  This was great homemade food.  The sandwiches were huge and they make all there own breads and pastries.  On our last day on the island, I treated my self to an iced sugar cookie.  It was so big it took me half a day to eat it, but it was delicious so I managed 🙂
Dukes located in Lihue at Kalapaki Beach in the Harbor area.  My husband and I had the Korean Street Tacos which were great and our friends traveling with us had the cashew chicken, which was delicious and very different from what you see on the mainland.
One of the main highlights for me on this trip was my husband surprised me with a wedding vow renewal ceremony on Shipwreck Beach to celebrate our 25th wedding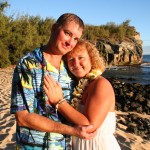 anniversary.  It was a beautiful ceremony officiated by Rev. Wesley Cronk.  Rev. Cronk did an amazing job and truly made the event memorable.
Would I go back to the island of Kauai?  The flight was long and tiring, but if I had the chance to go again in a few years, I definitely would!
Written by Natalie Brisco, Assistant to Linda Allen