Lindblad has been using the Hilton in Guayaquil for many years and they have the process down so that it runs like a well-oiled machine.  Lindblad has been able to develop their crew into stellar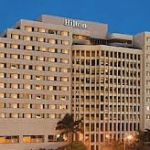 examples of customer service, but I did not find that elsewhere.
Customer service does not seem to come naturally to Ecuadorians, a topic that we discussed with our private guide and as a New Jersey native, he is seriously considering moving back stateside due to the laissez-faire local mindset.
Reserving through Lindblad would make the process easier as the night staff could not find my reservation made at Hilton.com.  Thirty minutes later, I actually had to produce a pre-paid, non refundable confirmation that they photocopied; very frustrating after a very long travel day.  A call to request tonic water was met with "we don't have that" and then while I was off to the gift shop to purchase it, two bottles of bottled water were delivered of which I was charged $20.  Amazingly, it was the same water that was complimentary in the room.<
We ate breakfast at the buffet.  It was plentiful and typical for a hotel.  We had dinner in the main restaurant and it was very good, but English is limited so dietary restrictions should probably be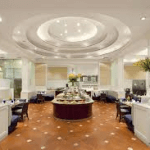 written out in Spanish.
The Hilton is over 15 years old and she is being spruced up; however, we were put on the return on the 3rd floor and the carpets were well past their prime.  The entire floor was VERY musty.  You should certainly ask for a room on a revitalized floor.
Tips:  At the airport, claim your baggage and proceed to the main lobby.  There is a staffed information booth and they will contact the Hilton for the shuttle.  Everyone makes it clear to NOT take an independent cab after dark.
A couple of hours in the old part of town should be adequate for most travelers.  There are some beautiful old government buildings and walking along the river appeared to be a popular pastime for locals, as well as visitors.   Across from the park and church is a small "diner" that is popular with the locals.  We had coffee and desert, but the meals looked equally appetizing and were very plentiful.  Our guide also suggested Puerto Moro as a reliably good restaurant with local flavor.  Their dishes were tasty and generous.
(This was written after a two night pre-cruise stay and one day room post in September 2013)