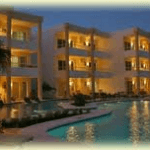 I recently returned from a wonderful trip to Cancun/Riviera Maya.  The resort property we stayed at was the El Dorado Seaside Suites.  This is a couples only resort with an emphasis on service.  The staff works hard to give the guests fantastic treatment.  The moment we arrived, we were escorted to the check in area and handed refreshing cool cloths and a wonderful fruit sangria.
After check in, we were shown our suite.  The beautifully decorated suite had a great ocean view.  Sleeping was easy on the comfortable bed and the in-room Jacuzzi was very relaxing.
The dining choices were diverse and the food was well prepared.  The faire included Oriental, Italian, Mexican and light faire restaurants plus room service.  Everyday there was a wide assortment of items for breakfast. The hotel offered tropical fruit, baked goods and a cook on hand to prepare your choice of breakfast items, such as omelets or French toast.  Lunch was usually a grilling area set up by the pool and each day you had choices of hamburgers, chicken or several varieties of fish.  The dinner restaurants required men to wear collared shirts or you could opt for the Sandwicherie for a more casual dining experience.
El Dorado Seaside Suites features the Naay Spa.  A wide variety of spa services including couples massages on the beach are offered.  We did not use the spa, but one of the couples traveling with us said, "the spa was one of the highlights of the trip."
We did not do many excursions since we had been to this area of Mexico before.  Our main intention was relaxation and this resort was a wonderful choice.  We did take a catamaran ride, but spent most of our time on the beach.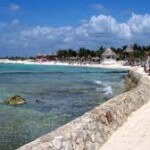 One thing to note about the beach at the El Dorado Seaside is it is very rocky.  If you want to get out in the ocean, you will need water shoes.  If you want a beach without the rocky terrain, you should consider the El Dorado Maroma.  This resort is 45 minutes from the El Dorado Seaside and has one of the most beautiful beaches in the area.
We had a wonderful time and it was a real vacation.  One we did not have to come home to recover from.  We will definitely return to the El Dorado Seaside Suites.
Written by Natalie Brisco, Assistant to Linda Allen