There has been quite a bit of press about cruise ships calling in Cuba.  Some of the articles make it sound as if there are going to be year-round calls by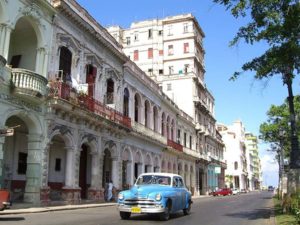 several different cruise lines, however, the reality is much different.  The approval for North American oriented cruise lines is very limited as the Cuban officials assess  the situation.   The infrastructure in Cuba is already strained with the existing tourism and there is concern that these larger ships will overwhelm the port of Havana.  The restrictions have not been lifted for US citizens so these new sailings will remain under the "People to People" restrictions.
The Norwegian Sky has only been approved for five May 2017 sailings. Monday departures on the 1st, 8th, 15th, 22nd and 29th.   I just spoke to my District Sales Manager who just spent a day on the Sky last week and he reports that she is well-maintained and receives consistently good guest satisfaction scores.  These 5 sailings are scheduled to open on December 20th at 8 AM Eastern.  The Sky will include beverages but not gratuities.  These 5 night sailings will have 2 days in Havana with an overnight. Prices start at $699 PP Cruise Only. Link to FAQ's
Oceania only has 3 sailings in March:  March 7th, March 21st, March 31st.  Pricing start at $1,999 PP Cruise Only.  I prefer the 21st and 31st as they both have 2 days in Havana with an overnight.  They are all on the Marina, which is one of my personal favorites. Link to FAQ's.
Regent has two sailings in April with an overnight in Havana starting at $2,999 PP.
Royal Caribbean only has 4 sailings in April and May.  Prices start at $659 PP Cruise Only.  The sailings are on the recently refurbished Empress of the Seas.  I have not seen her since she came back into the fleet, however, I have been personally assured by Vicki Freed that she is in excellent condition.  None of these sailings overnight in Havana.  Link to FAQ
Azamara has one sailing on March 21st with an overnight in Havana pricing start at $2,799 PP cruise only.
Viking has 5 sailings in November and December.  The 7 night cruises start at $2,649 PP Cruise Only, the Panama Canal sailing is almost sold out.
All guests MUST have a passport and a Cuban visa.
All of the above only call in Havana.  The sailings below have more extensive itineraries.
Ponant has only one sailing in March which their web site shows as sold out.
Pearl Sea Cruises has more scheduled departures than any other cruise line starting on January 17th with pricing starting at $7,810 PP.
International Expeditions has 5 sailings on the Panorama II in 2017 starting at $5,699 PP.
Lindblad also utilizes the Panorama II
There are other ships calling in Cuba, however, they are not oriented to the US market
Bottom line……I would personally pick Oceania Marina for myself but for just a quick over and back the Norwegian Sky may be a good choice.
Empress Follows Churchill's Tampa Route To Cuba
Some 125 years ago a company called the Plant Line operated the steamship service between Tampa, Key West and Havana. And now, for the first time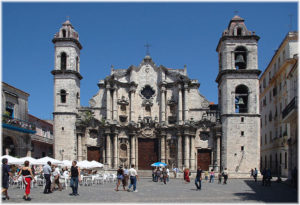 in decades, service is returning on the original route between Tampa and Havana.
Cuba, Havana: Plaza de la Catedral de San Cristobal (Photo credit Gorupdebesanez at commons.wikimedia.org)
One of the Plant Line ships, the 1,611-ton Olivette, carried a 20-year-old Winston Churchill on the event of his first visit to Cuba. On November 19, 1895, Churchill boarded the Olivette in Tampa and landed at Havana, where he soon developed a taste for Cuban cigars. The Olivette was one of two ships that had been put into service between Tampa, Key West and Havana in the 1880s, in the summer months sailing between Boston, Halifax and Charlottetown.
Another famous passenger who travelled on the Olivette was Jose Marti, who sailed in her from Havana to Key West in 1891.
Royal Caribbean's Empress Of The Seas
Now, in 2017, Royal Caribbean International's 1,604-berth Empress of the Seas will make a couple of sailings from Tampa to Havana. She has recently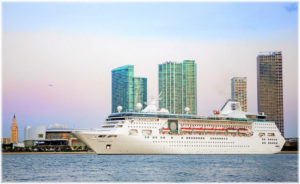 undergone a $50 million refit that included adding a Cuban theme to her bars, lounges, and restaurants and Royal Caribbean hope will be sailing to Cuba in the foreseeable future as well.
The Empress will offer a 5-night cruise from Miami on April 19, a 7-night cruise from Tampa on April 30 and a 5-night cruise from Tampa leaving May 20. Each sailing will allow at least eight hours in Havana and offer a wide choice of sightseeing tours, the most expensive of which will be an 8-hour tour for $124.
Empress of the Seas will then be based in Tampa for the summer, offering a series of 4- and 5-night sailings, hopefully including calls in Cuba.
http://www.latecruisenews.com/2017/01/16/empress-follows-churchills-tampa-route-cuba-cruise-news-oceania-viking-sail-havana-miami-small-ship-cruises-cuba/
Linda