Renting a condo the first time can seem a little daunting; often there are just too many choices.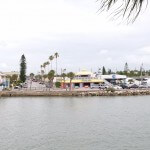 I have a good friend who books condos and apartments around the world for herself and friends, so when I needed a condo fast in Florida I asked her where she starts and she sent me to HomesAway.com.  Her advice was to read the most recent reviews.  I have heard mixed reports about on line booking with some people reporting that the photos of the outside were not accurate, using Google Earth  would be helpful.  
During my Florida trip, I realized that it is not just the unit that is important but also the management company.  We booked over the phone and I needed a quiet location with a water view.  However, I was booked into a unit that was acceptable, but directly across a small bay from 3-party bar/restaurants.  The blaring music and lively conversations went on until late in the night during several nights of a seven night stay.  Not a good choice for a family in a stressful situation.  Additionally, the management company booked this unit for a week when the electricity was going to be off all day for one day for routine maintenance.  That was certainly not acceptable in 80-degree weather. 
Checking on the bed configuration is a good idea.  The unit I rented "slept 6″ with a king, two twins and double sleeper sofa.  My 6'2" son would have preferred two Queen or King bedded rooms.  
If you plan on cooking, you may consider packing a few things from home.  If are traveling from some distance, the grocery chains may be different and it could be time consuming to gather up many different items.  Also, resort area prices may be higher.  
Items you may want to consider:
Spices

Dishwasher and clothes washer pods

Coffee and tea

Snacks

 
I actually have a condo rented in August that I stayed at last year and I am just going to set aside the items that I brought back to pack for that trip.  
A simple grocery list will cut down on the trips to the store.  We found an app to share the grocery list with others at OutofMilk.com  that worked well.  
The condo I rented last year had basics such as salt, pepper, bath and dish soap, Kleenex and paper towels . The unit in Florida did not have any of these items.