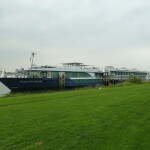 Refreshingly different in many ways yet still traditional in the river cruise experience, the Globus River Cruise Division of Avalon exceeded my expectations.
Having previously cruised on the Viking Seine, I was familiar with the experience; but was intrigued at the relatively new purpose built brand.   Marketed to English speaking clients, this concept is perfect for travelers and is not limited in appeal to only cruisers.  Anyone who is well-traveled and curious with an interest in the old world, will find this experience a delight.  A river cruise is the perfect venue to see so much in a short time in absolute comfort and style.
I was on the pre-inaugural of Luminary in July 2010.  We visited unique ports for Avalon, which were places I did not know ahead of time that I wanted to visit; but upon arriving, was delighted to experience.  As such, this gives me confidence that as conditions may change in an itinerary, Avalon has the skills and resources to adapt the itinerary to the situation.  That is vital with river cruises due to the changes that can occur.   This was particularly evident in Heidelberg where the shore excursion was affected by pouring rain.  Passengers were given new options after the initial castle tour to return directly to the ship, continue on the morning city tour or stay all day….Very graciously done.  
The exterior of the ship is attractive, low and long.  Expansive windows and split level construction differentiate it from many of the other river vessels.  
I would expect Avalon to appeal primarily to Boomers.  Cabins are double occupancy with no triples, quads or connecting cabins.  On my sailing, there was a multi-generational group on board with older twenty somethings and a mature teen.  
Activities are very limited on board and the gym is tiny.  There is a hot tub, but the placement front and center directly in front of the wheelhouse made it feel a little too open for my taste.   
Motion is not an issue on this vessel and the stars of the river are the locks.  They are interesting and dramatic.  Sections of the river where you can see evidence of the massive amount of water that is being directed and utilized for commerce and pleasure are thought provoking. Th e lock and dam system changed the way of life and livelihood for this area and is a vital commercial link for goods and tourism.  Watching the river traffic is a captivating and pleasant pastime.    
I was intrigued to be on board for the christening with many of the investors.  I had lunch with some and listened closely to the dialogue and what had been a curiosity became evident as a win-win for all involved.  Passengers get new state of the art vessels that are leased to Avalon, who is able to influence the construction specific for their demographics. The investors are left with a tried and true product that can readily be moved into any market.  Avalon, by leasing is not forced into keeping a ship in the fleet that may be tired and can update as tastes change, an example of this is the highly anticipated Avalon Panorama, due in just a few months and sure to be a game changer.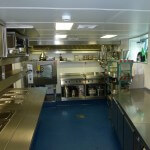 The galley tour is amazing.  The galley is the size of a large American kitchen.  The staff of eight (8) creates multi-course meals with what must be great orchestration.  I could only imagine the activity in this pristine kitchen.  
The ice cream was notable.  It is made on board as are the toppings and I ordered it at times when other desserts did not appeal to me.  
Even though this was the first sailing of the ship, the dining was on par with expectations.  The evening meal was too lengthy, due I feel, to it being a brand new ship.  Some dishes were perfect and exceptional and others needed a little refining.  Breakfast was unchanging, but bountiful and included cooked to order eggs.  It would have been nice to have some changes, such as cooked to order waffles.  However, it was well organized and convenient.  
Some excellent selections for lunch and dinner are to be had by ordering off the set menu on the left side of the menu. The salmon dish received excellent reports.  The complimentary wine with dinner was much appreciated, red and white are offered and Rose' is available.   
Boarding does not start until 4 p.m., so passengers are well advised to arrive the day prior as no day rooms are provided. There is a passenger lounge set up in a central hotel and morning and afternoon shore excursions are offered for a charge.  I tried the afternoon windmill shore excursion and in hindsight, I would spend the afternoon at a park or museum.  I would anticipate the Van Gogh in the morning would be worthwhile.   
Oddly, pre-cruise documents are lacking in specifics as to what to expect each day, so keep your options open.  It left some passengers in a bind who were trying to meet up with others for lunch.  Shore excursions are included in each port and are oriented to passengers who have not visited before.  They were well-organized and generally of good quality. 
Transportation was in clean, modern coaches or boats with skillful drivers/captains and never crowded.  Pre and post transfers were handled in a timely, efficient manner.  
Suggestions for free time were limited, so advance planning in this area would be well advised although most were content to stroll the charming towns. 
Cabins are large by river cruise standards and actually compare in size with many new cruise ship cabi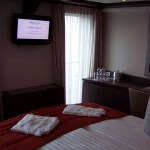 ns.  That being said, passengers should expect what would be considered quite small rooms on land.   Storage is adequate for a week, but of note, there are no drawers, only shelves.  The bath is tasteful and has a glass shower door rather than a curtain, which is welcome.  There is no night light for the bath.  Bedding is comfortable.  Americans may find the lack of a top sheet odd as the comforter is slipped into a cover that doubles as a sheet. 
Toiletries are herbal in scent and gentle and pleasant.  Shampoo, shower gel and lotion are provided; however, cream rinse is not provided and is not available on the ship.  Forgotten items will need to be obtained while in port as there is no shop on board.  Also provided are shower caps, sewing kit and shoe shine.  Basic salon services are available and the women who I spoke with who used this service were pleased. Laundry service is available, but there is no self serve laundry.  
The least expensive cabin and the standard cabin with a French balcony are the same size.  I was ambivalent about the sliding door until I started sleeping with the door open.  It was divine and worth paying more for.  The suites are lovely and compare to a land based room.  Spacious and comfortable, certainly worth the step up if it is in your price point.   
I added all tips to my credit card.  Optional shore excursions and the tip for cruise director are payable directly to them as a separate transaction. The feedback from the optional tours was generally positive.  
My trip was the end of July through the first week of August on the Rhine from Amsterdam to Zurich.  I was surprised at how cool the weather was and packing was similar to packing for Alaska with cool to warm temps and rain a possibility most days.  A few weeks before, the weather had been unseasonably hot, so checking the 10-day forecast is a must.  
Public areas are contemporary and open with a subdued palette and an emphasis on the windows and their views.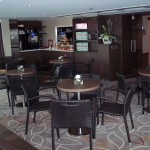 The lounge has three walls of windows and is the heart of the ship.  The bar is located on half of the fourth wall and was a popular spot.  I opted to sign up for the optional drink package and paid my tips ahead and this made it almost all inclusive.  I don't think the drink package saved me money, but it was pleasant to sign only once a day.  I would not hesitate to buy it in the future.  The lounge has good site lines and there is an entertainer who played mostly oldies.  
At the rear of the ship is a small lounge with books and games and the most popular, a fabulous coffee machine that made the best coffee on the ship.  Tea, cookies and fruit are also available 24 hours. Co mfy and wrapped in glass, this was a quieter sanctuary.  
The sun deck is massive with sun and shade.  There are tables and chairs as well as nifty loungers with individual sun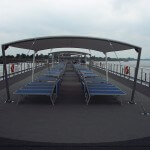 shades.  Smoking is only allowed on the open decks and not in cabins.  The wheelhouse is front and center on the sun deck and it is very interesting watching the captain maneuver through the locks.  A state of the art navigation and propulsion system is put to good use with this intricate maneuver.  The bridge is not truly an open bridge, but guests can pop in when things are quiet for a look and a photo.    
The Avalon Luminary is indeed a beautiful and charming ship; however what makes her truly special is the caring and attentive staff and crew.  The vision of Avalon has been perfectly orchestrated and refined into a relaxing and elegant vessel with a heart of gold. 
(Based on a pre-inaugural sailing, July 2010 Amsterdam to Zurich)