AmaWaterways may not have the name recognition that other river cruise companies have, but they offer a solid river cruise product oriented to North Americans. "Ama" means "love" in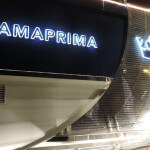 Latin.
English speaking only passengers.  There are no restrictions to cross border sales.  The passengers average age is 57 and are primarily couples.
There are new twin balconies are on the latest builds.
From May to October is the main season in Europe.  My sailing in late November was cool and rainy with snow in the forecast.  The advantages to that are that the crowds are absent, so there is little waiting to get into the popular sites; and the Christmas markets are open.
Late November found the ship fully decorated for Christmas, although not professionally.
New builds will be sisters.  The exceptions will be that the suites will have larger cabins and smaller balconies.  Reportedly, there will be two new ships in 2014 and two in 2015.
Specialty restaurant at no charge with excellent food and service.  Main restaurant has good to excellent food and very good service.  Nice wines are freely poured.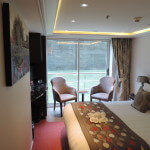 Champagne is served at breakfast.  Al Fresco dining is on Sun Deck, weather permitting.
The hairdresser also does the massages on board, which is an unusual combo.  I spoke with one female passenger who was happy with her hair service; however I think that hair was her strong suit.
Theme cruises are very popular.  Examples are: Chocolate, Knitting, and Wine & Beer.  They have D-Day cruises with military discounts.
Most sailings are in Europe; however the Vietnam/Cambodia itinerary has been a favorite with my clients.  Other destinations include Portugal, Russia and Africa.  New for 2014 are Burma itineraries on a new build with 56 cabins on 10 and 14 night itineraries with post packages offered.
Internet is complimentary and there is a computer in cabin.  Always upgrading Wi-Fi system.  The system is still slow, but I managed by switching back and forth from two different tasks.
There is a heated pool with swim up bar.
Ama now has active tours and biking.  Tours are varied and well-run with good equipment and guides.  Gentle, regular and active tours are available.  The only complaint I heard is that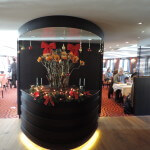 there was just too much to do.
The crew service is warm and attentive without being obstructive.
There is a pianist in residence and local entertainment is brought on board most nights and most are excellent.
Cabins by river cruise standards are spacious with ample storage and well appointed.  Suggestions for the new builds would be for better lighting for makeup and another shelf in the bathroom for women traveling together.
Interestingly, the main lounge is really used as a large living room.  Passengers mingle and are friendly and relaxed. There are no formal nights and most dress casual or resort casual.
(Based on a November 2013 sailing)